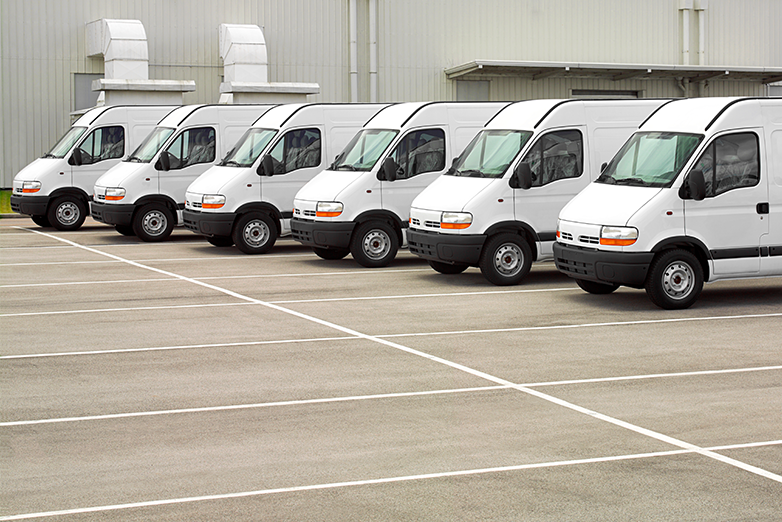 Do you know how many drivers in your fleet are habitual speeders? Who regularly forgets to buckle their seat belts? What about trends in your fleet's fuel economy or unnecessary idle times — are there ways you could be saving time and money?
With multiple vehicles and drivers in your fleet, keeping track of where everyone is and what they're doing can be a real challenge. Telematics offer managers insight into their fleets, including individual driver safety records, where vehicles are at any point in time, how long they have been on the road, fuel consumption, reasons for breakdowns, and even component failure rates.
Not only do telematics provide fleet managers with valuable information they can use to improve overall driver safety and productivity, but this data also has significant cost benefits. Drivers can be dispatched and rerouted in real-time when needed, and routes can be designed more efficiently.
By spotting trends in driver training effectiveness and reducing crashes on the road, you can also use telematics to show insurers your fleet's history of safe driving, which can lead to reduced premiums.
What Are Telematics?
Vehicle telematics act similarly to an aircraft's flight data recorder, or "black box," tracking important data that can be analyzed to improve productivity, identify trends, and correct driver behavior. This data can also be used in investigations to recreate conditions surrounding a crash.
A telematics device is placed in the vehicle's diagnostic port and uses GPS and accelerometer technology to gather information in real-time. A web-based dashboard enables fleet managers to analyze the collected data to identify different trends in driver behavior, as well as other metrics such as:
Real-time GPS location
Estimated time of arrival
Fuel economy
Idle times
Hours of service
Personal or after-hours vehicle usage
General engine diagnostics that can be used for predictive maintenance
Access to this type of data has transformed the way fleet managers track and maintain company vehicles and equipment, as well as how they manage drivers. With telematics, managers have complete visibility of their workforce, assets, and costs.
Here are three ways telematics are changing fleet management.
1. Improved Fleet Safety and Driver Training
A telematics solution that is fully integrated with your on-road driver safety training program enables you to measure the "before and after" characteristics of drivers using company vehicles, so you can evaluate the effectiveness of your training.
By identifying problem drivers through risk and safety reports, managers can assign specific training to correct deficiencies and ultimately improve driver behavior.
Telematics enable managers to monitor all driving activity through a web-based dashboard so that they can see how their drivers are performing in real-time. Metrics can include everything from seat belt use to braking, accelerating, and speeding data.
Managers can even modify driving behaviors in the vehicle itself if a pre-set rule is about to be broken. For example, if a driver is speeding or not wearing his or her seat belt, a warning buzzer can be programmed to sound inside the cab.
2. Risk Management
With telematics, managers can see a complete profile of all drivers, including their past driving records and current driving habits. Drivers are scored according to performance, making it easy to identify which drivers may need additional safety training.
Drivers with habitual speeding records or habits such as braking too harshly, accelerating too quickly, or turning too sharply can be easily identified, and targeted driver training can be recommended to improve their safety and performance. The result is better fuel economy, fewer crashes, and lower maintenance costs overall.
3. Crash Notification
Managers receive instant notification when a crash has occurred, and the telematics device will capture the vehicle's last 30 seconds of dynamics, so it can be thoroughly investigated. A second-by-second reconstruction of the activity before a crash is recorded, including important data such as the driver's stopping speed and brake force.
This data is an invaluable form of documentation for insurance claim investigations, including "no-fault" claims when a company vehicle is hit and damaged while parked.
Smith System's Smith360®
Smith System's Smith360 Driver Management Program is the only vehicle telematics program directly tied to behind-the-wheel training, providing managers with a deeper understanding of their fleet through monitoring, analysis, reporting, intervention, and training.
The module is easy to install and plugs directly into a vehicle's diagnostic connector, enabling managers to track drivers and monitor their actions in real-time.
By tying vehicle telematics directly to driver safety training, fleet managers can identify which drivers need additional training and instruction to improve their performance. The result is fewer crashes on the road, lower maintenance costs, and better insurance rates and deductibles for your fleet.