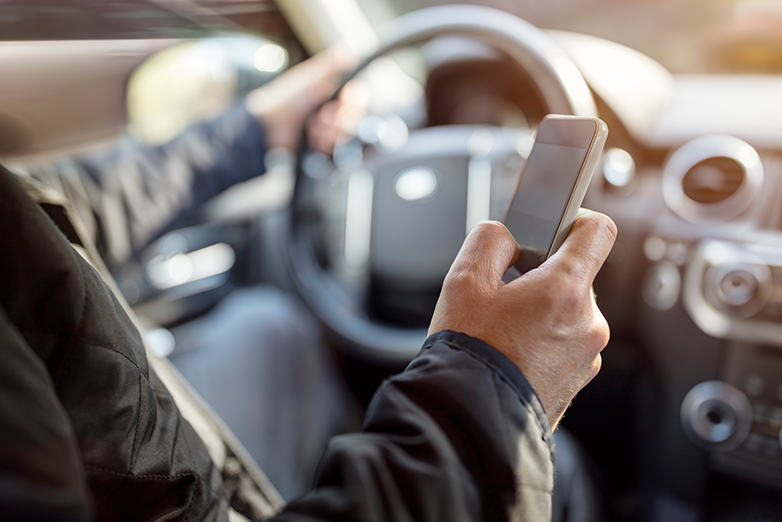 Every five seconds, a vehicle crashes on a U.S. roadway, and every 12 minutes, someone dies as a result. Many of these crashes occur during the workday and on company time. It is an expensive problem for employers, who often foot the bill for the related injuries, repairs and premium increases.
One of the biggest and most common contributors to roadway crashes is distracted driving. In 2019, 3,142 people were killed in motor vehicle crashes involving a distracted driver.
What is distracted driving? There are many different types, including visual, manual and cognitive distractions. As drivers spend more and more time in their vehicles, attempting to multitask from behind the wheel, almost any activity can be potentially distracting. Even routine things such as talking to passengers, eating, talking on cell phones or texting can be dangerous distractions for drivers.
Studies show that distracted driving is a factor in as many as 25–30% of all crashes on the road — that's around 4,000 crashes a day!
Does your company have a distracted driving policy to ensure employee safety and reduce potential liability? If not, it's time to adopt one. The first step is understanding the different types of distracted driving and what drivers can do to avoid them.
Types of Distracted Driving
Distracted driving is defined as any activity that can divert a person's attention away from the primary task of driving. According to the Department of Motor Vehicles, there are three primary types of driving distractions: visual, manual and cognitive.
Visual Distractions
Visual driving distractions cause you to take your eyes off the road. Examples include activities such as checking your GPS or navigation system, looking to see what song is playing on the radio, and searching for mirror or temperature controls or lost items on the floor of your vehicle.
Manual Distractions
Manual distractions are defined as distractions that cause you to take your hands off of the wheel, such as eating, drinking, smoking, checking your phone, adjusting the radio or setting a destination in your vehicle's in-dash navigation system.
Cognitive Distractions
Cognitive distractions take your focus and concentration away from driving. This could be anything from talking to other passengers in the vehicle to road rage or driving under the influence of drugs or alcohol. Stress and fatigue are also a factor.
Drowsy or fatigued driving is a form of cognitive distraction that is suspected to contribute to more than 100,000 crashes each year — including 40,000 injuries and some 1,550 deaths. Many experts feel that these crashes are under-reported, and the actual numbers may be much higher.
Distracted drivers are also less likely to safely respond to adverse roadways and weather conditions by failing to recognize hazards and reacting too slowly to changing traffic conditions.
Two of the most common distractions — talking on cell phones or texting while driving — are especially dangerous because they fall under all three types of distracted driving. Many states have enacted laws making it illegal to use the phone behind the wheel — even for hands-free calls — and texting while driving is illegal in most states. Federal law prohibits all commercial drivers from using hand-held mobile devices while driving.
How to Avoid Distractions
Driving requires your full attention, and the best way to avoid distractions is to stay focused and keep your hands on the wheel and your eyes on the road.
Of course, drivers should avoid eating and smoking while driving and should never drive under the influence of drugs or alcohol, but other best practices include pulling over to read directions or setting navigation systems before you start driving.
Using radio pre-sets eliminates the need to tune to your favorite channels, and all adjustments to mirrors, seats and steering should be made prior to getting on the road.
To avoid the temptation of taking phone calls and answering texts and e-mails from behind the wheel, drivers should set their phones to "Do Not Disturb" and turn off the ringer while driving. It is also a good habit to keep your phone out of reach while you are in the car.
Protect Your Company's Bottom Line
The Occupational Safety and Health Administration (OSHA) reports that motor vehicle crashes cost employers $60 billion annually in medical care, legal expenses, property damage and lost productivity. They also drive up the cost of health insurance and worker's compensation benefits.
The average crash costs an employer $16,500. If there is an injury, the cost jumps to $74,000 and a fatality can cost $500,000 or more — plus the invaluable loss of life. According to the Network of Employers for Traffic Safety Cost of Motor Vehicle Crashes to Employers 2019 report, the employer cost of distracted driving crashes was $18.8 billion in 2018. The good news is that most crashes are preventable.
OSHA recommends employers implement a driver safety program to reduce the risk of collisions and protect employees on the road, as well as themselves against potential liabilities associated with crashes on company time or in company vehicles.
If an employee is involved in a crash while driving a company vehicle, the employer is ultimately responsible. Establishing and enforcing a distracted driver policy not only protects your employees and others on the road, it ultimately protects the company's bottom line.