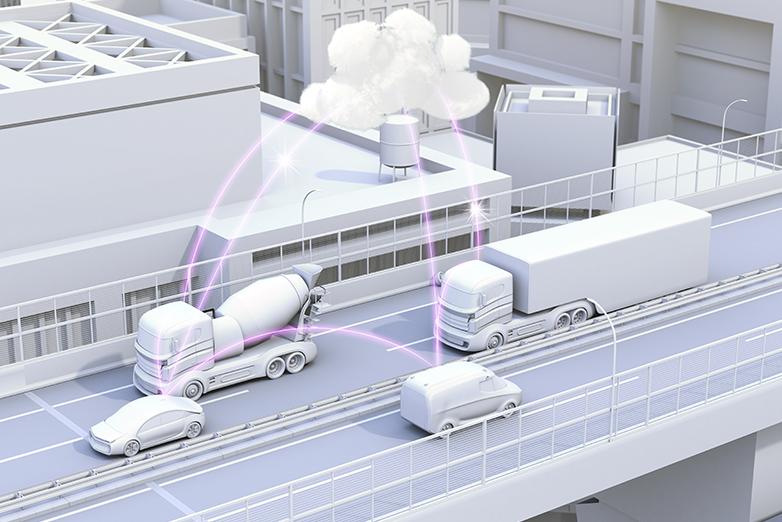 Your drivers are probably already using GPS technology to plan delivery routes and find your customers' addresses. But did you know that fleet telematics can also be used to improve driver safety and performance?
For example, do you know how many drivers in your fleet regularly drive 10 mph over the speed limit or always wear their seat belts? What about idle times — do you know how many of your company vehicles are sitting idle during the day, and for how long, while out on delivery routes?
Telematics that combines onboard diagnostics with GPS is changing the way today's fleets are managed. By taking GPS navigation technology a step further, managers can access the information and critical metrics they need to improve the efficiency and safety of their entire fleet.
What is Fleet Telematics?
Fleet telematics devices use GPS and accelerometer technology to gather data from a vehicle in real-time. This information can include anything from GPS location to idle time, fuel economy, hours of service, personal use of a company vehicle after hours, and even general engine diagnostics that can be used for predictive maintenance.
Having access to this data enables managers to better track and maintain company vehicles and equipment, as well as better manage their drivers. Here are some of the ABCs of fleet telematics devices and how they can help improve your fleet's productivity, overall customer service, and your company's bottom line:
Automatic Collision Notification
In addition to tracking individual driver behavior such as acceleration and braking patterns, fleet telematics solutions also provide automatic crash notification. Managers are immediately alerted when a company vehicle has been involved in a crash, as well as related information such as whether or not the driver was wearing a seat belt and the direction of impact.
Telematics devices provide information to help emergency workers better assess a crash scene and also capture a vehicle's last 30 seconds of dynamics, which can help authorities with investigations by re-creating the conditions of a crash.
Beyond GPS
GPS alone is designed to provide navigation for a single driver and collects data in real-time, but it doesn't give managers the performance overview of all fleet drivers. Telematics, on the other hand, gathers and stores information on all of the vehicles in the fleet so that your team can work more collaboratively.
Navigation from telematics helps commercial drivers track and adjust their routes and driving behavior based on real-time updates on road and weather conditions. By helping drivers to become more efficient, fleets can also save on maintenance costs and improve delivery times and customer service.
Cellular Network
Telematics devices can be portable or built-in permanently to a vehicle's onboard diagnostic port.
Data is collected from drivers and typically sent to a central data center through the cellular network, where any device can access it with an internet connection.
Data and Metrics
With fleet telematics, data and metrics such as vehicle location, idle time, maintenance schedules and even engine diagnostics are collected and can be analyzed for training purposes to improve your fleet's overall safety and productivity.
By monitoring and analyzing how many miles drivers log and how long they are sitting idle, for example, managers can modify routes to save on fuel and maintenance costs. By monitoring traffic on routes, productivity can be improved by making modifications to reduce downtime and improve customer service.
Efficiency and Safety
Telematics doesn't just improve efficiency — it also dramatically improves driver safety by alerting managers to individual driver behaviors. Metrics such as which drivers regularly drive over the speed limit or forget to wear their seat belts, as well as who has a habit of braking and accelerating too quickly, are all tracked in real-time for managers to monitor.
Armed with this complete picture of individual driver strengths and weaknesses, managers can quickly and easily identify who needs more training.
A telematics solution that is integrated with a fleet's behind-the-wheel driver safety training program also enables managers to measure the before and after characteristics of drivers to evaluate overall training effectiveness. Collected data can also be used to show insurers evidence of your fleet's safe driving history, which can result in lower insurance premiums.
Smith System's Smith360™ Driver Management Program combines onboard diagnostics with GPS technology. The Smith360 certified electric logging device provides advanced GPS location and telematics to give managers everything they need to monitor, analyze and improve driver performance.