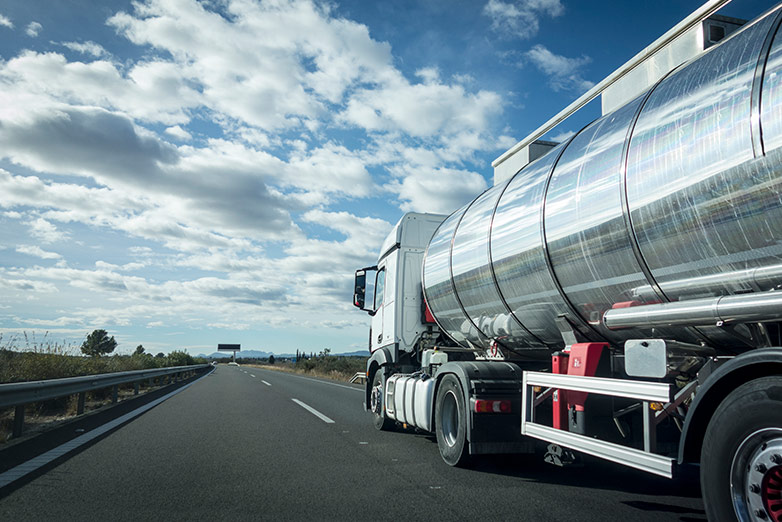 According to the National Institute for Occupational Safety and Health (NIOSH), motor vehicle crashes are responsible for more than 40% of work-related deaths in the oil and gas industry. That's concerning, especially since the oil and gas industry already is known for having some of the most dangerous jobs in the world and has a workplace fatality rate that is eight times higher than the national average.
For many employees, the benefits of working in the oil and gas industry, good pay and the promise of steady work help to balance out the long hours and time away from home. But as the number of on-the-job fatalities continues to rise, so do questions about how to safeguard the industry as it prepares for even more growth
Much attention and training have centered around improving safety on the job through such measures as providing the right protective gear and going over the proper procedures. But with crashes claiming the lives of some 300 oil and gas workers over the past decade, and driving continuing to top the list of fatal dangers, it's time for companies in the oil and gas industry to take a closer look at what they can do to improve driver safety.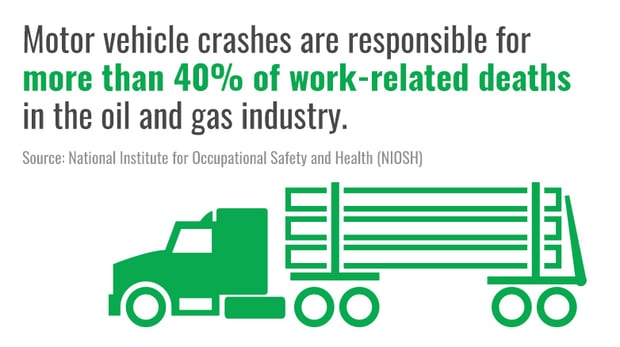 What's Causing the Driver Safety Problem
Long hours are perhaps the biggest culprit when it comes to driver safety. Oil field workers are granted exemptions from the highway safety laws that apply to truck drivers. While truck drivers have a daily limit, no such provision exists for oil field workers. They may work shifts for 12 or 13 hours or more for seven to 14 days in a row. Even the Centers for Disease Control and Prevention notes that these "oil field exemptions" create an unsafe work environment by demanding too many hours of service.
Those long hours contribute to an environment of exhaustion, so it's not surprising that the leading cause of crashes in the oil and gas industry is driver fatigue. Driving while tired is as dangerous as driving while intoxicated, studies have shown. While that's a problem for anyone behind the wheel (as well as for other drivers on the road around them), when it comes to oil and gas workers, the problem is even greater.
In addition to long hours, shift work and irregular hours also pose a threat. Workers who change shifts are shown to have more instances of both insomnia and daytime sleepiness, both of which increase the risk of work-related incidents — including vehicle crashes.
While driver fatigue is the leading cause of crashes, it's not the only problem behind the wheel. The oil and gas industry often requires workers to drive for long periods of time on rural roads, and that creates another danger. Many of the drivers don't have a commercial driver's license or formal training because they're frequently driving pickups or other vehicles that don't require a special license. According to Industrial Safety & Hygiene News (ISHN), a study of fatal oil field crashes in Texas revealed that more than half of the incidents involved pickup trucks and 56% were single-vehicle crashes. Among the commonalities of these fatal crashes were that they were typically caused by young males who were not wearing seat belts.
As the industry continues to grow, ISHN reports, so do concerns about driver safety. More demand could lead to more inexperienced and exhausted drivers behind the wheel. It will be up to safety managers and employers to make the changes needed within their companies to keep the roads safer for all.
Turning the Corner on Oil and Gas Driver Safety
One of the most effective ways to improve driver safety is through better education. Regardless of what type of vehicle they're driving, workers can learn how to keep themselves and others in their vehicles safe.
According to the National Highway Traffic Safety Administration (NHTSA) and Occupational Safety and Health Administration, implementing the right driver-training program can significantly reduce the number of employee-involved crashes every year. Additionally, it benefits employers by lowering maintenance costs, saving money on insurance and lost productivity and of course, by saving lives.
In addition to learning better driving skills and how to cope with changing conditions around them, a good driver-safety program should also address the dangers of distracted driving. The CDC reports that nine people are killed and 1,000 are injured every day in a crash that involves a distracted driver. Teaching the dangers of distracted driving and implementing a distracted driving policy are effective ways to make drivers think about how they're using technology when they're behind the wheel and improve their ability to pay attention to what's happening around them.
Behind-the-Wheel Safety Extends Beyond the Cab
It's also important to provide information and education about how workers can improve their habits off the clock to be more productive and rested on the job. For example, getting sufficient sleep, drinking enough water, participating in physical exercise, maintaining a healthy weight and consistently eating a healthy, balanced diet are all things that can benefit workers as well as the company as a whole.
Considering that on-the-job traffic crashes cost employers billions of dollars every year, and a single fatality can cost the company, on average, $671,000, investing in driver training programs can pay off in many ways.
Creating a culture of driver safety and ensuring that all drivers receive proper training will improve both your company's overall driving performance and your reputation. But most importantly, it will keep workers safer behind the wheel and make the roads they travel safer for others.