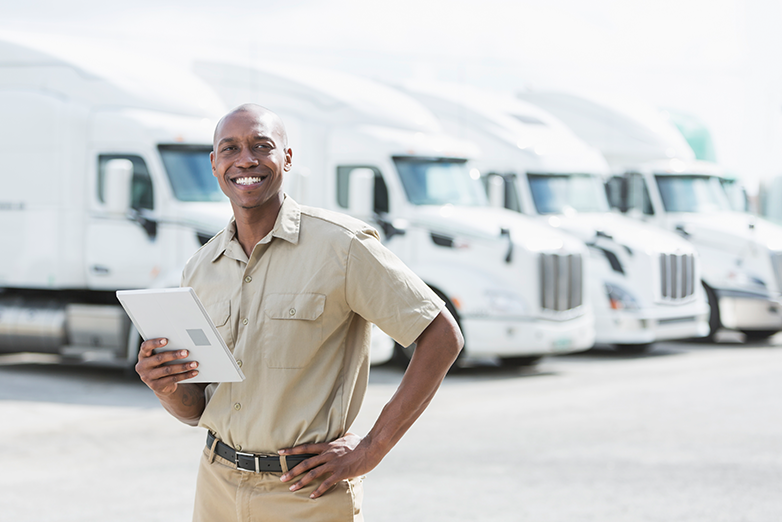 Safety is a fleet manager's most important responsibility. It starts with screening and hiring the right drivers and providing them with advanced training and extends to the ongoing monitoring of driver performance through fleet metrics.
Creating a safety culture for your fleet is critical to the safety of your drivers and the overall success of the business. It is estimated that motor vehicle crashes cost employers over $60 billion annually in associated medical and legal expenses and property damage and lost productivity.
Implementing the right safety policies can reduce the number of on-the-job crashes and protect everyone on the road, which ultimately protects your company's bottom line. For the best results, where should fleet safety managers concentrate their time and attention? Which fleet performance metrics are the most important to monitor?
5 Things Fleet Safety Managers Need to Know
Here are five things every new fleet safety manager needs to know to improve driver performance, safety, and efficiency:
#1: Pay attention to telematics.
An advanced telematics program provides fleet managers with insight into their drivers' everyday performance and driving habits. These fleet metrics can show managers which drivers are habitual speeders, for example, and who forgets to buckle up. Metrics can also show vehicle component failures and even trends around unnecessary idle time and fuel economy.
Armed with these metrics around GPS location, fuel economy, idle times, hours of service, and engine diagnostics, managers can track where company vehicles are and what drivers are doing at any time so they can ultimately improve driver safety and productivity.
Efficiency can also be improved, as drivers can be dispatched and rerouted in real-time when needed.
#2: Integrate telematics with your driver safety training program.
By integrating an advanced vehicle telematics program with behind-the-wheel driver safety training, fleet managers can evaluate the effectiveness of their driver training and improve individual behavior and everyday driving habits.
Drivers can be observed in real-time and monitored for seat belt use, speeding or even harsh accelerating and braking habits. By analyzing this data, managers can identify which drivers may need additional training to improve their performance.
Benefits include fewer on-the-job crashes, lower maintenance costs for company vehicles, lower insurance rates and better overall fuel economy.
Telematics devices also capture the last 30 seconds of dynamics prior to an on-the-job crash, which can help with the subsequent investigation and any potential insurance claims against the company.
#3: Always maintain company vehicles.
Keeping company vehicles properly maintained and inspected reduces the number of crashes and breakdowns in your fleet. Always maintain vehicles according to preventive maintenance schedules and keep up with the manufacturer's recommendations for service.
Keeping tires inflated properly and oil changed regularly — as well as ensuring that critical systems such as brakes are in good working order — helps to prevent breakdowns and crashes on the road.
#4: Implement a formal distracted driving policy.
Distracted driving is not only illegal in most states, it's also a very dangerous problem that caused 3,142 deaths on the road in 2020. Every day in the U.S., nine people are killed and more than 1,000 injured in crashes involving a distracted driver.
Establishing, implementing and enforcing a formal distracted driving policy enables you to improve the safety of your drivers and others on the road and protect your company from potential lawsuits and liabilities.
#5: Conduct MVR checks on all drivers — not just new hires.
Motor Vehicle Reports (MVRs) shouldn't be just for new hires. All employees — new hires and current employees — who are authorized to drive a company vehicle should have their MVR regularly checked. This should be a standard part of the new hire background screening process and be periodically extended to existing employees to ensure that they maintain a good driving record.
MVRs are maintained by each state's Department of Motor Vehicles. Records typically go back as far as three to 10 years.
Employees are a company's most valuable assets. Following these tips will help to keep your drivers safe, protect your company from the liabilities associated with on-the-job crashes and ultimately save lives on the roads.
Smith System's Smith360™ Driver Management Program provides managers with a deeper understanding of their fleets through monitoring, analysis, reporting, intervention and training.