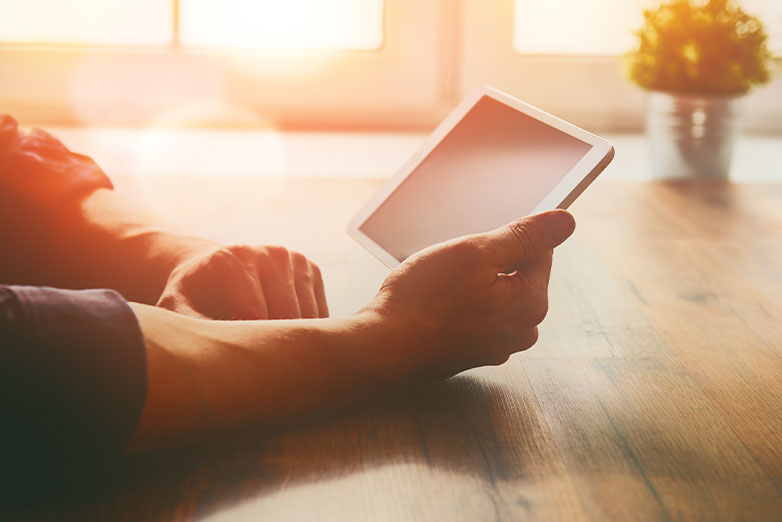 Behind-the-wheel training is always going to provide the most advantages when it comes to transforming driver behavior, reducing crashes, and saving lives. However, there are times when eLearning, through online courses and video training, makes more sense.
Let's look at five ways employers and safety managers can use eLearning programs to improve driver safety.
No. 1: Refresh previous behind-the-wheel training
After a driver has taken behind-the-wheel driver training, they have a better understanding of how to use principles like The Smith5Keys® to improve their driving behavior and create a safer environment on the road. However, over time, it's easy to fall back into bad habits.
Oftentimes, this happens without drivers realizing it; they aren't intentionally ignoring safety principles, but it's easy to let old ways of thinking — and driving — slip back in.
eLearning as a form of refresher training is a great way to reinforce what drivers have already learned and remind them of the things they need to be doing behind the wheel.
It's an effective way to complement previous training while also allowing them to receive the training on their own time and in a place and way that is most convenient to them.
No. 2: Train employees who only drive occasionally
If you have employees who spend most of their time at a desk or in a warehouse, they probably don't need the kind of in-depth training you want for your full-time drivers.
Still, any time they're behind the wheel of a company vehicle, you have some culpability. Even if they're dropping off contracts or traveling to a conference, when they're in a company vehicle, you're responsible.
eLearning is an excellent way to make sure those employees have received proper training and understand how to respond in specific traffic situations, which improves their overall safety behind the wheel.
You can choose courses that would be specific to their driving environments as well as select courses that make sense for everyone, such as driving in reverse, driving drowsy and managing technology in the vehicle.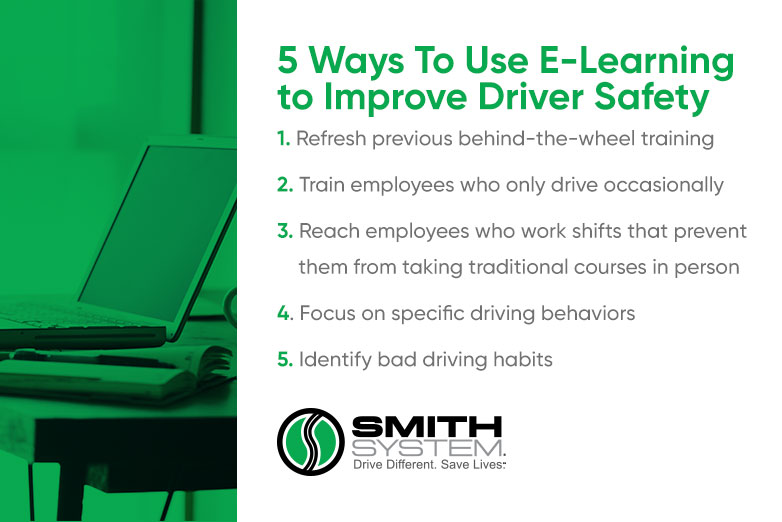 No. 3: Reach employees who work shifts that prevent them from taking traditional courses in person
When a driver is ready for refresher training, or has skills that need polished, you don't want to put it off until a time when it's convenient for the driver. You want to address as quickly as possible.
However, with the busy schedules that your employees face, providing behind-the-wheel training doesn't always fit in as conveniently as you'd like.
That's where eLearning can provide a solution that works well for everyone. The ability for drivers to brush up on their driver safety skills after work, on the weekends or any other time that would be convenient for them, makes it easier to improve overall safety in an efficient manner.
No. 4: Focus on specific driving behaviors
Sometimes, it comes to your attention that an employee is making poor driving choices. You might learn about the poor driving behavior through telematics, or it could, unfortunately, come to your attention through someone reporting bad driving behavior to your company.
In any case, eLearning provides an opportunity to focus on specific areas that need attention.
Let's say that your telematics show you that a driver is braking hard and accelerating quickly. Not only is this dangerous to other vehicles on the road, but it costs you more in fuel and wear-and-tear on your vehicle.
Being able to address those behaviors with one or more relevant eLearning courses can refocus the driver's attention and help him or her become more aware of what they should be doing differently behind the wheel.
No. 5: Identify bad driving habits
Pointing out what other drivers are doing wrong is easy. Seeing where we can personally improve is another story.
An eLearning course is a valuable way to point out certain behaviors and provide corrective action for them. For example, distracted driving is a significant problem on the road, from the distractions outside our vehicles — such as increased traffic, pedestrians and scooters and cyclists — to growing distractions inside, like cell phones and infotainment systems.
But even if they're aware of how dangerous distracted driving is, most drivers have a bad habit or two that they may not realize is putting them in danger, which could be as simple as changing radio stations frequently or drinking and eating while driving.
With the help of an eLearning program, drivers can see the danger of certain behaviors and learn the proper way to manage driving situations and avoid distractions.
Is eLearning Right for You?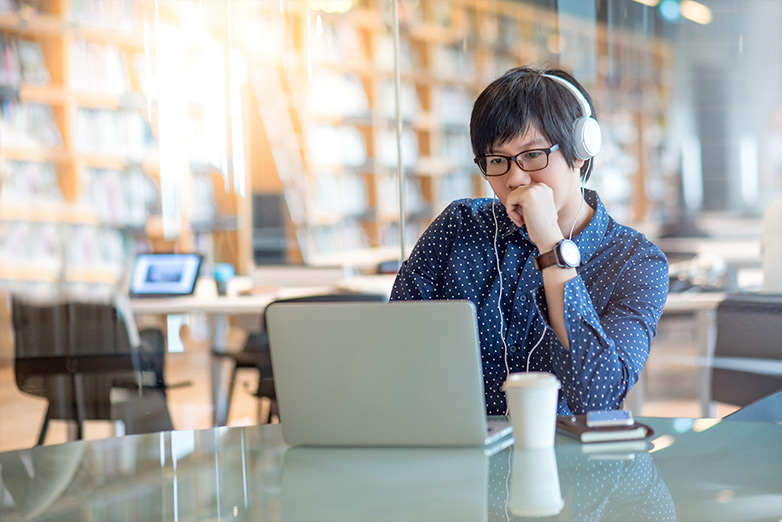 These are just some of the ways that an eLearning program can be used to help improve driving behavior. And, when companies want to provide additional driver training on a tighter budget, eLearning can be a way to "fill in the gaps" between in-person behind-the-wheel training.
Our online training courses are an excellent reinforcement of The Smith5Keys® to safe driving. Learn more about Smith eLearning℠ for a cost-effective way to reinforce your driver's safety training with the added benefit of a flexible class schedule built around your schedule.