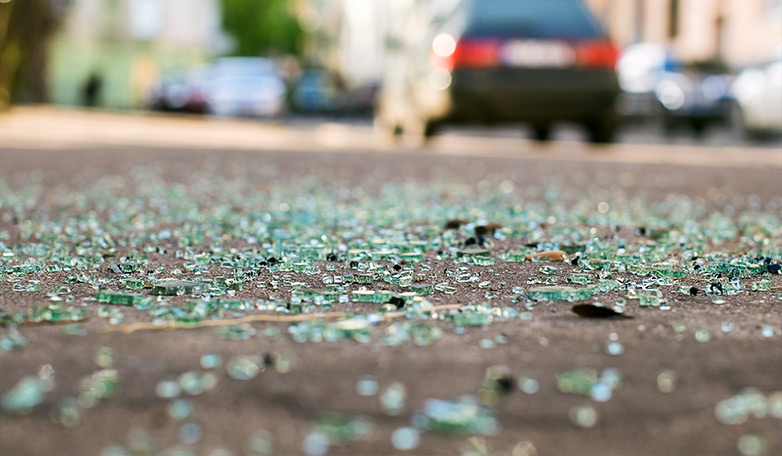 Vehicles being built today are safer than ever before, with increasingly more tools to alert drivers to problems around them — or even help them avert danger through features like collision avoidance systems.
Many high-tech crash avoidance systems, like forward collision and blind-spot warning systems, are now included on new vehicles, joining airbags and stability control as standard features.
But despite increased safety features, U.S. traffic deaths aren't plummeting as expected. While these driver assistance systems are credited with reducing the overall number of crashes, they still aren't able to compensate for driver error.
Overall, the number of traffic deaths decreased during 2018, according to the National Highway Traffic Safety Administration. While that's good news, there were still 36,560 U.S. traffic deaths — only about 1,000 fewer than the year before — but some categories actually saw an increase in fatalities.
For example, while speeding-related deaths dropped about 6 percent, and there were about 10 percent fewer children killed in vehicle crashes, the number of pedestrians who died as the result of traffic incidents in 2018 was the highest it has been since 1990, with 6,283 people losing their lives.
Bicyclists also saw more deaths, up 6 percent from the previous year for a total of 857 fatalities. And even though fewer motorcyclists were killed than the previous year, the 4,985 deaths still are a 33 percent jump over the number of motorcycle fatalities a decade earlier.
The other area where the news wasn't good was for large truck occupants, where the 885 deaths were up by about 1 percent from 2017.
As vehicles have become safer, it would seem logical that the number of traffic-related deaths would take a more dramatic plunge. But the new numbers signal that there's still work to be done to improve safety for drivers and everyone they share the road with.
U.S. Traffic Deaths: What the Latest Stats Tell Us
One of the first things noted by the NHTSA is that drivers are putting more miles on their vehicles.
The average number of miles traveled went up by about .03 percent from 2017 to 2018, even as overall fatalities went down. But, the report emphasized, "while we're making progress, we still need to be safer on the road."
Here are five factors that are contributing to making roads less safe for drivers, their passengers, pedestrians and bicyclists.
1. More Drivers
An increase in the number of drivers also means that there's more opportunity for things to go wrong behind the wheel. As of 2018, the U.S. had about 227.5 million licensed drivers, up by more than 2 million drivers from the previous year.
With more drivers sharing the road on aging infrastructures that aren't designed for this volume of vehicles, there's a greater likelihood for problems including traffic congestion and crashes that lead to both injuries and fatalities.
2. Higher Rates of Speed
The 55 mph speed limit imposed in the 1970s has been in our rearview mirror for a few years now; today, many states have a speed limit of 75 mph or higher, with six states having an 80 mph limit and Texas topping out with an 85 mph limit on one of its toll roads.
According to the Insurance Institute for Highway Safety, for every five additional miles per hour allowed on the speed limit, there is an average of an 8.5 percent increase in fatalities.
While higher speed limits are popular with drivers who want to reach their destinations more quickly, they're also a contributing factor to more crashes. In fact, 26 percent of all fatal crashes in 2017 were attributed to speed.
3. More Distractions
All those high-tech tools in our vehicles can help make navigation and communication easier — but they also are a leading cause of distracted driving.
From navigation apps and infotainment systems that are built into the dash to smartphones and stand-alone GPS nav systems, there's no shortage of ways to keep drivers' minds off the road where they belong.
Seven out of 10 drivers admit to using their smartphone while driving, and they're doing more than making calls; they're also texting and using social media. Not only are such practices illegal, but they're also deadly: Distracted driving is the cause of nearly 60 percent of crashes involving teen drivers and was a reported factor in 8.5 percent of all fatal crashes in 2019.
4. More Miles Being Logged
As noted by the NHTSA, we're putting a lot of miles on our vehicles. The Federal Highway Administration reported that 2018 was a record-setting year for travel, with drivers logging 3.225 trillion miles. This marked the fifth consecutive year that the miles driven topped 3 trillion, and as the economy continues to thrive, this trend is estimated to continue.
And, just as the trend of having more drivers on the road leads to greater congestion and raises the risk of crashes, the National Safety Council directly connects the increased number of miles driven with the greater likelihood of a crash.
5. Failure to Get Proper Training
For most drivers, instruction on how to operate a vehicle ended with driver's education in high school. But learning how to handle a vehicle in changing weather conditions, in heavy traffic or amid other challenges plays an important role in keeping drivers — and those around them on the roads — safer.
Behind-the-wheel driver training teaches and reinforces driving behaviors and habits to prevent common mistakes and coaches drivers to avoid situations like aggressive or distracted drivers on the road around them.
It also helps drivers avoid pedestrian incidents and reduces the risk of backing collisions. With the right type of driver training, drivers learn how to plan for hazardous situations and improve their safety, using such techniques as learning how to create space around their vehicle — even in traffic — so they have an "out" if necessary.
This type of advanced training not only helps keep drivers safer, but has such benefits for the company as lower vehicle maintenance costs, less wear and tear on vehicles, lower fuel costs and greater productivity.
Make the Road Around You Safer
While safer vehicles should mean safer roads, statistics are proving that's simply not the case. Learning how to make your own fleet safer can provide both peace of mind and reduce the number of crashes for your drivers.
The good news is that most motor vehicle crashes are preventable, and when drivers learn the proper ways to avoid crashes and drive more defensively, it can keep them from becoming part of the problem.
With the right driver safety program, you can not only improve the performance and driving record of your own fleet but can make the roads safer for your entire community.