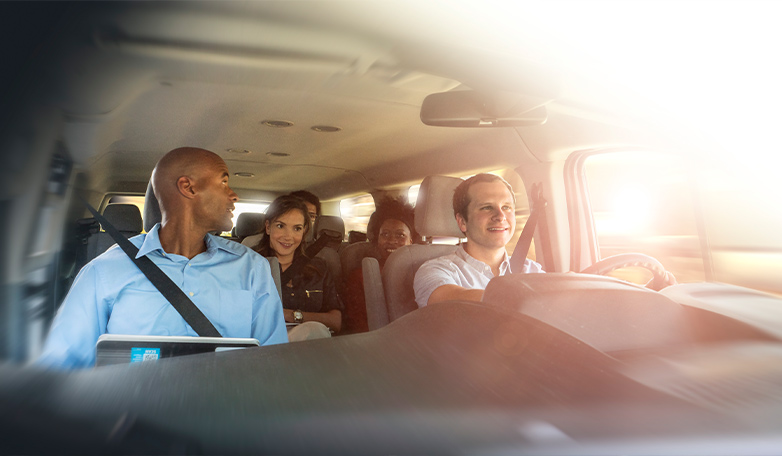 If your company relies on drivers, making sure they have the skills to stay safe and engaged behind the wheel is key to both your company's success and your staff's safety. As a fleet manager, it's up to you to ensure that your drivers are among the safest on the road.
While it is tempting to avoid courses that physically take your drivers off the job, the value of the time spent on behind-the-wheel training is incalculable. On-the-road driver training helps your team members see the road differently and position themselves in a way that gives them more time to react to a variety of situations. Drivers who learn these skills become proactive rather than reactive and experience fewer dangerous situations on the road as a result.
Here are five benefits you can expect from an on-the-road driver training course:
1. Applied Skills and Scenarios
The biggest difference between a simulated driving course and a behind-the-wheel, on-road course is that the simulated course can only model real-world scenarios. During behind-the-wheel driver training, your drivers actually interact with real-world conditions. The ability to experience various scenarios as they occur is key to turning new skills into habits. Overcoming the unpredictable challenges of weather, traffic conditions and other drivers' behaviors in real time will give your team the confidence to apply their new knowledge when they're alone.
2. Real-Time Feedback
Having a certified instructor in the passenger seat makes an enormous difference for drivers who are learning. A knowledgeable instructor can identify a driver's strengths, weaknesses and blind spots before offering personalized and practical advice to fix any issues or concerns. In addition, the time invested in a driver's training can help reduce staff turnover. Drivers who feel supported in their professional development are often happier and more satisfied with their jobs than those who aren't, and stress-free drivers are safe drivers.
3. Reduced Fatalities and Crashes
The worst-case scenario for any driver is a crash that results in loss of life. Most crashes are preventable. The biggest causes of traffic incidents are blind spots, lane changes and reversing — all of which can be made safer with better training and driving habits. Many crashes are the result of distracted driving or reactive driving; they happen when drivers don't have the space and time to calmly react to a situation and, instead, make split-second decisions that can have disastrous consequences. Behind-the-wheel training will help your drivers feel more confident on the road and react safely to challenges.
4. Liability and Compliance Costs
Crashes on the job affect lives and cost money. Life-altering injuries and potential liability are major issues that can occur when an employee is involved in a crash. Motor vehicle crashes cost U.S. employers $60 billion annually in medical costs, legal expenses, property damage and lost productivity. The average crash costs an employer around $24,000. That number can jump to $74,000 if there is an injury and to over $670,000 if a fatality occurs. Insurance premiums can increase sharply after incidents as well. Fortunately, a safe driver is unlikely to become involved in a crash. The time and money that your company invests in a driver training course could end up saving money — and lives — in the long run. In addition, the headache of compliance penalties can cost your company both money and reputation. Drivers who are unfamiliar with DOT audit and FMCSA regulations are risks to themselves and other drivers. Training that helps to refresh your drivers' knowledge will help reduce your costs.
5. Client Trust
Clients who rely on companies to haul and deliver their products want to work with the best. Trusting your bottom line to someone else requires confidence in that company's skills and ability to deliver on deadlines. If your team is constantly delayed due to safety and compliance issues, you may find yourself dealing with lost business and cancelled contracts in addition to unhappy customers. Driver training demonstrates your commitment to being a safe, well-run business. It promotes your company's professionalism to both current and future clients and keeps your drivers safe behind the wheel.
E-Learning vs. Behind-the-Wheel Training
While e-learning has its place in driver development, nothing can replace the experience of learning skills on the road. E-learning is an excellent way to supplement and reinforce what drivers have already learned while behind the wheel, but it should never be considered a replacement for on-the-road training. Drivers who learn necessary skills from a computer screen may have a harder time applying those skills in real-world scenarios compared to someone who learned while actually driving. Together, E-learning and behind-the-wheel training can help your team become the safest they can be.
The Smith System Difference
Drivers who are able to assess their circumstances and react appropriately will not only reduce crashes, they will also save lives. Smith System was founded on the belief that most crashes are preventable with the right skills and knowledge. Our driver training courses are built around this belief and expressed by The Smith5Keys®. The Smith5Keys® are designed to provide drivers with the knowledge and skills to create three important things while driving:
Space to maneuver their vehicle away from conflict
Visibility to detect danger and the potential for conflict with another vehicle or fixed object early
Time to react to volatile and complex driving environments
These principles are designed to help drivers see, think and act their way through various on-the-road scenarios, regardless of where they are or what type of vehicle they operate. The Smith5Keys apply to all driving conditions, making the training effective for all drivers, whether they travel long stretches of highways or crowded city streets.
When you choose Smith System, you can feel confident that your drivers are receiving the best training available. Our certified instructors have the skills and knowledge to teach your team everything they need to know about driving safely and reducing crashes. Our DriverDirect™ courses are conducted on site and make it easy for your team to use the skills they learn later when they're on the job. To learn more about the driver training programs we offer, please contact us.