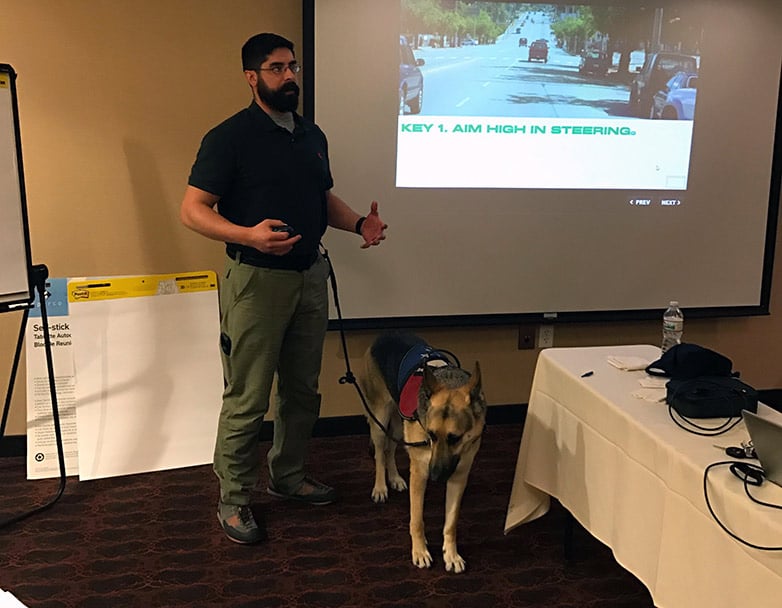 When Dan Houghton reported to driver safety training in Salt Lake City, he brought a very special friend along for the ride: Aspen, his 94-pound German shepherd service dog.
Aspen serves as Houghton's trusted companion, while at the same time helping him with balance and mobility issues he has experienced since his service injury. The two attended the five-day, multi-company training program — Smith System's DriverTrainer™ — along with five other trainees, all from different companies. Houghton, a retired veteran, spent 15 years as an Air Force Pararescueman and served tours in Afghanistan and Iraq. "Today, he serves as a training liaison at Williams, a premier provider of large-scale energy infrastructure, with a headquarters in Tulsa Oklahoma."
Having a service dog attend class with a student was a first for Rick Blacker, who has been an instructor with Smith System for almost 12 years. "I met privately with the other five students to make sure they did not have any allergies or issues with Aspen," says Blacker. "They all said, 'No way. This guy is a service member. He's given his service and sacrifice for our country. It's no problem at all.'"
Houghton, who was injured in a pararescue operation in Afghanistan in 2007, was paired with Aspen in November of 2016 through The Argos Project, part of K9 Soldiers, Inc. The non-profit organization matches Americans with Disabilities (ADA)-compliant dogs with their lifelong military veteran partners.
"Aspen goes everywhere with me," says Houghton. "She has flown with me on about 12 different flights now. On the plane, she sits in front of my feet, right under the seat. At home, she sleeps on the floor next to my bed."
Aspen accompanied Houghton during every aspect of the five-day Smith System driver training course, including both the classroom and on-road training. While in the classroom, Aspen sat in the back of the room next to Houghton. During the driving part of the training, she sat next to him in the 12-passenger van. While Dan was behind the wheel, Aspen sat quietly in the back of the van behind the seats while he drove.
Though Smith System did not know ahead of time that Aspen would be accompanying Houghton to class, they were very glad to have her, Blacker says. Smith System is always willing and eager to welcome veterans and anyone else who may require special accommodations in class.
"They were very accommodating," Houghton says. "It was a great experience."
The Smith System DriverTrainer program is designed for companies that warrant their own in-house Smith System commercial driver safety training. Trainees are taught how to identify individual drivers' strengths and weaknesses and provide personalized, practical solutions to improve overall driving behavior based on The Smith System proven methodology.
To ensure trainers are teaching the most effective driver safety content and latest information in the Smith System training material, each trainee is required to attend a recertification course every two years. Since completing the DriverTrainer course in late 2017, Houghton has already presented the material to others back at Williams.
Smith System instructors and certified trainers deliver behind-the-wheel instruction to more than 250,000 drivers annually and serve customers on every continent. Smith has been integrating driver training with telematics, driver scoring metrics and predictive risk analysis since 2012 and provides e-learning and classroom content in 22 languages.
To learn more about Smith System's driver safety training opportunities or to register for one of our many courses, contact our team of experts today. Smith System is happy to accommodate any student's special requirements in the classroom and behind the wheel and we are always proud to serve our military veterans.