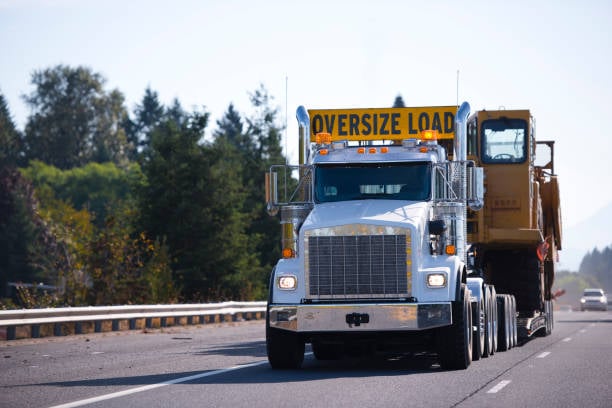 Maneuvering in close quarters is a challenge in any situation, but the larger the vehicle, the greater the challenge.
For heavy haul truckers, close quarter maneuvering can be particularly tricky. Whether it's navigating through a detour, getting around a tight corner or maneuvering to a not-so-well-positioned loading dock, drivers face this challenge in many different ways.
Learning how to handle a heavy haul truck in close quarter conditions will help keep drivers, their vehicles and those around them safe.
"The No. 1 thing to remember is that, when it comes to close quarter maneuvering, inattention is not acceptable," says Walter Cole, Vice President of Training for Smith System Driver Improvement Institute, Inc.
"If you're driving for five or six hours, there are going to be times when you are not 100% focused on your driving. But when you are doing close quarter maneuvering, you have to have your head in the game. That is absolutely the most important thing to remember."
Close Quarter Maneuvering Tips for Heavy Haul Trucking
Here are six close quarter maneuvering tips that are essential for heavy haul trucking.
1: Know Where You're Going
Knowing where you're going is such an essential part of driving that it provides the first of the Smith5Keys® principles, which is "Aim high in steering." In close quarter maneuvering, that translates into looking ahead and knowing where you need to go — and how you're going to get there.
Smith System's training focuses on the importance of removing all distractions and identifying the safest route. Whenever you're driving, particularly in tight spaces, it's crucial to ensure that your vehicle only goes where your eyes have already explored.
2: Walk Your Path
If you're in an unfamiliar area, it can pay off to get out and physically walk the path you're going to travel, particularly if you're about to turn a corner or enter a tight parking lot.
"You don't want to make a turn and realize that you're stuck," Cole says. "You can avoid that by taking the extra time to walk the area and determine the safest approach, as well as how you're going to exit. You always want to plan your exit upon your arrival."
3: Avoid Backing
Backing collisions account for a large percentage of company crashes, but as Smith System training teaches, you can't have a backing collision if you never back up.
Heavy haul trucks have larger blind areas, which creates more hazards for drivers. Being able to see all of the obstacles and objects in your path is essential to safety, and in a backing situation, it just isn't possible to see everything in your path.
In addition to the challenges presented by backing up, drivers spend most of their time behind the wheel moving forward, so they have less experience in developing backing skills.
Look for ways to approach your destination that will allow you to leave without ever putting your vehicle in reverse. And if you must back up, avoid backing while turning.
Back wheels are designed to be pulled, not pushed, so "it takes a big lateral movement to push your vehicle in the direction you want to go," Cole says. "If you're backing and turning, you expose the side and rear of your vehicle. So if you have to back up, backing straighter is much safer."
4: Think About What's Above You
When you think about close quarters, it's common to think about tight turns, parking lots and narrow roadways. But it also includes the space above your vehicle.
"There might be awnings or low overhangs that you have to be aware of," Cole says. "Everything above you should be considered; collisions can happen from above, too."
Checking the distance between your roof and what's above it can prevent such collisions from happening. That also means being aware of clearance for overpasses and any temporary low-clearance situations. Even if you're familiar with a certain route, watch for low clearances that may have been implemented since you last visited that location.
According to a report in The New York Times, some 80% of trucks that get stuck under overpasses are following their GPS and believe they're "in the clear." Always double check where you're driving and know the overhead clearance.
5: Get a Guide
The significance of having assistance during close quarter maneuvering is especially heightened for heavy haul truck drivers. This is due to the fact that, as previously mentioned, larger vehicles inherently possess more blind spots.
According to Smith System's teachings, the individual serving as your guide must be someone you have confidence in and can effectively communicate with. Failing to adhere to this principle could result in harm, or even more serious consequences, for the guide.
In situations where you're relying on a guide for maneuvering but lose visual contact with them, it's imperative to halt immediately. Refrain from resuming vehicle movement until you have verified the safety and visibility of your guide. Smith System's instruction is to consistently position your guide on the side of your vehicle that you can see, open the windows to facilitate communication, and ensure that both you and the guide are in agreement regarding the hand signals.
Having the appropriate guide can significantly contribute to your ability to navigate tight scenarios with safety when entering or exiting them.
6: Take It Slow
Close quarters are no place for a fast pace. In fact, you might be surprised to learn just how slow you should go.
"Most people assume that idling or walking speed is OK for backing," Cole says. "But that's too fast."
Instead, he recommends reversing at one mile per hour, and says that is especially true in a heavy haul vehicle.
"You need to be looking from left to front, to right to above, and then to the back again," he explains. "If you are moving too quickly, you'll cover too much ground before you look back again."
It's also important to maintain a slow pace moving forward; Smith System recommends moving at about 10 to 15 mph, or even slower, depending on the situation. This is the time when you want to have plenty of time to react to any changes or movement around you and to make sure that you are aware of everything that is happening near and around your vehicle.
Safe Habits Keep Drivers Safe
Mastering the art of safely navigating a heavy haul vehicle in confined spaces constitutes a fundamental aspect of driving responsibly. Despite the majority of driving hours being dedicated to open road conditions, the moments spent in tight quarters hold a paramount significance within your overall journey. Acquiring the skills to adeptly handle such situations stands as your optimal approach to guaranteeing not only your personal safety but also the well-being of your truck and those around you.