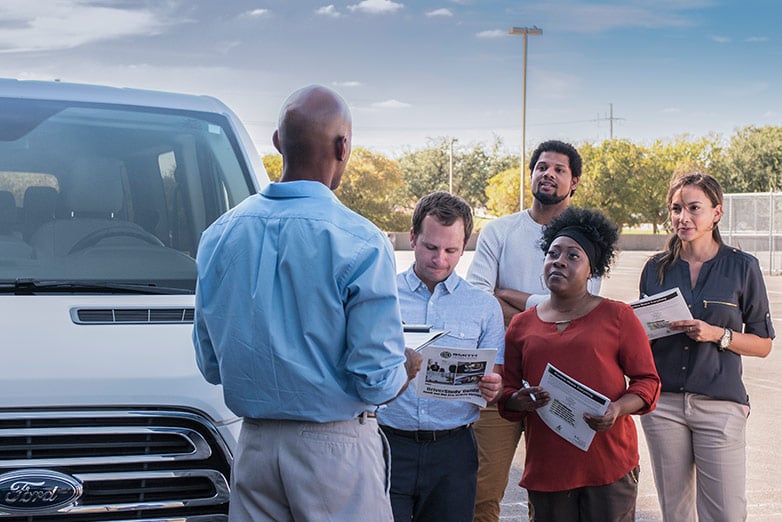 Every company that has drivers — whether that means employees who occasionally drive for work or those who spend the better part of their workday behind the wheel — likely has a driver safety training program in place. However, what's more important than having a safety program is making sure that it's effective.
According to the Centers for Disease Control Foundation, on-the-job crashes cost employers about $65,000 for a non-fatality accident and about 10 times that amount if a fatality is involved.
In addition to property damage, costs to a company include lost productivity and possible third-party liability claims. A good driver safety training program not only helps protect your company's working capital, but protects its human capital as well.
Of course, not all driver safety training is created equal, so safety managers need to make sure that they're using a training program that is meeting their needs.
A driver safety program means different things to different companies. It can be anything from watching a video to taking a full five-day course. What's most important is to make sure that the program isn't just chosen so that you can mark it off your company-wide "to-do" list, but that it's giving your drivers the tools they need to be safer behind the wheel.
Having safe drivers benefits everyone on the road, not just your individual company. There are clear signs that indicate when the existing program is no longer enough.
"Your fleets driving safety record will tell you everything you need to know," says Walter Cole, Vice President of Training for Smith System Driver Improvement Institute. "If you're having a lot of backing collisions, or if you have several incidents of rear-end collisions, those are the kinds of things that will tell you when problems need to be addressed."
Do You Need a Better Driver Safety Program?
Even if you already have a driver safety program in place, there might come a time when you realize that you need to seek out better training. Determining exactly what you need is crucial for selecting the right program.
For example, if your company has workers who don't drive very often, such as using a company vehicle to drive to meetings a couple of times a month, a seminar might be sufficient training. Smith System advises looking at any specific problems your drivers are having and then choosing a program that can best address those issues.
It's also a good practice to identify possible risks, such as two of the biggest culprits in today's collisions — distracted driving and speeding — and take measures to prevent them from leading to crashes.
"Training is a preventative measure in any profession, whether it's nursing or teaching or what have you, we expect to receive ongoing training," Cole says. "But when it comes to driving, we tend to ignore the need for additional training."
That's a mistake, given that the number of car crashes has gone up each year for the past two years. Providing refresher training or a more comprehensive training program can help drivers identify and change risky behavior, and that can have a significant effect on the company as a whole.
"You'd be surprised how small changes behind-the-wheel can have a big impact on the bottom line," he says.
Exploring Your Driver Safety Training Options
With so many options available, it can be challenging to find the driver safety training program that is best suited to your company's specific needs.
When looking at companies that offer training, whether it's online or in person, read testimonials from their customers and find businesses similar to yours. That way, you're not comparing apples to oranges and can feel confident that the company can provide training suited to your specific needs.
Also, keep in mind that your training program is only as good as the person who is doing the training and the materials they are using. While nothing can replace the value of behind-the-wheel training, not every company will choose this option, but make sure what the course does offer, is solid, actionable and effective.
A good program, whether it's behind the wheel, online, or a video course, will provide tools for follow-up training as well. The advantage of behind-the-wheel training is that it allows a professional to observe drivers in real-world driving situations and learn their strengths and weaknesses. Drivers then have a better idea of what they're doing well and where they need improvement.
A video course or e-learning course can help address specific behaviors and can be used as standalone training (or as a refresher course) if a certain behavior becomes a problem. For example, Smith System offers online training on topics ranging from backing and parking to distracted and drowsy driving.
"When you realize that your drivers are at risk, or when your safety record shows that you need some improvement, it's time to look at what you need to do differently," Cole says. "The bottom line is, if you don't teach your drivers to drive differently, nothing is going to change."