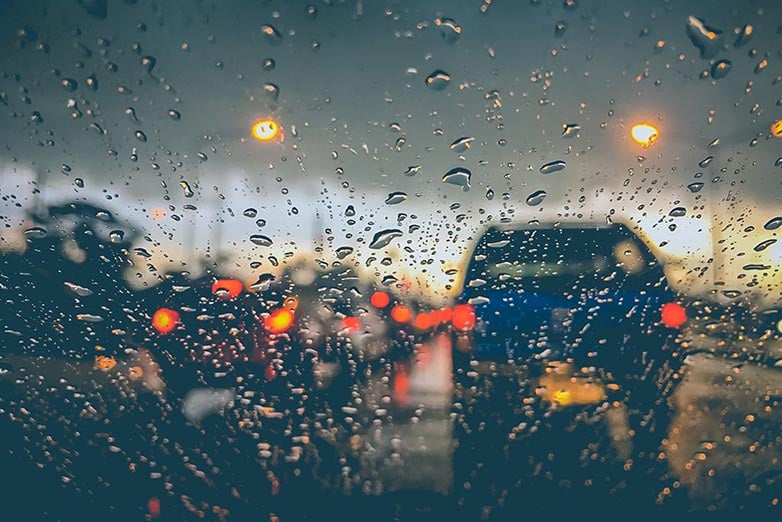 You can't do anything about the weather. You can, however, change the way you respond to bad weather conditions. For drivers, that response can mean the difference between getting to their destination safely or not getting there at all.
Every season of the year brings its own set of perils on the road, but fall and winter can be especially trying for those who are spending a great deal of time behind the wheel. Here's a look at some of the common driving dangers during this time of year and what you can do to keep yourself and other drivers safe.
Know What to Expect from the Hurricane Season
The hurricane seasons for both the Atlantic and Eastern Pacific oceans run through Nov. 30, with most of the activity happening between August and October. Hurricanes can be particularly brutal on the transportation industry, as they can have lingering effects on operators.
For example, when Hurricane Harvey hit Texas in August 2017, 10 percent of all U.S. trucking operations were impacted by the storm at some level. In addition to the damage done to equipment and shipments, hurricanes bring threats to drivers before, during and after the storm. Here's a look at how to manage those threats when you're behind the wheel.
What to Look for Before the Storm
Even before major storms or hurricanes arrive, there are likely going to be strong winds that make driving treacherous for drivers. Strong winds are dangerous because they can pull and flip even large vehicles such as tractor-trailers.
Stay alert, slow down and try to get off the road as soon as possible. If you park your vehicle to wait for the storm to pass, try to park next to a building to help cut down on the direct path of the wind and keep it from turning your vehicle over.
Planning Ahead for Safe Conditions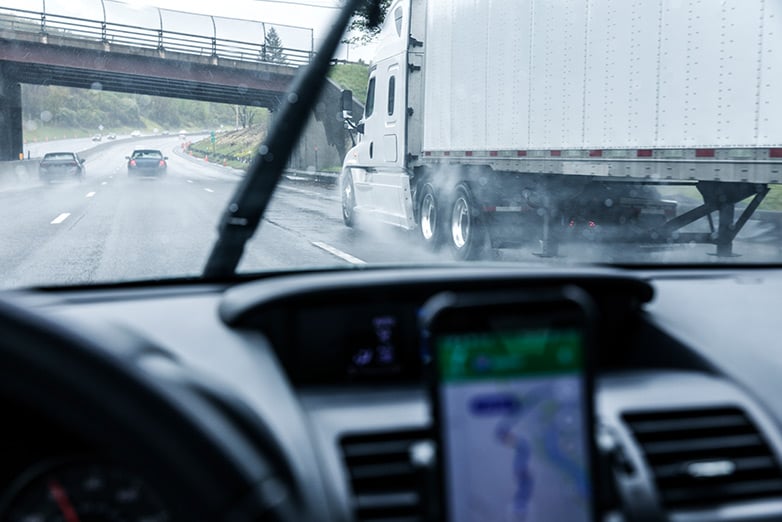 If you're in an area that is in the predicted path of severe weather, begin monitoring wind and other weather conditions a few days in advance. If a state of emergency is declared or appears inevitable, find a different route. It's not worth the risk to attempt to drive in dangerous conditions.
Even though today's radar technology allows for the prediction of weather events and patterns, they can change unexpectedly. Keep up-to-date with road conditions and closures through the U.S. Department of Transportation website. This will ensure that you aren't headed to an area where the roads are closed or the conditions are dangerous.
If you do find yourself in an area that's being affected by a hurricane, and you aren't able to get off the road immediately, slow down. It's likely that roads will be crowded with other vehicles trying to leave the area, so it's going to take some patience and extra alertness to keep yourself safe.
Finally, keep in mind that you must always avoid driving through high water. Since hurricanes can cause downed power lines and standing debris, even a small amount of standing water can be deceptively dangerous. If you can't see the road, stop driving. It's better to stay safe and turn around than become trapped or tangled in something you can't see.
What to Expect When Driving After the Storm
Even though the weather may have passed, there are still many dangers to watch out for when you're behind the wheel. If you're going to an affected area, tips for staying safe include:
Watch the roads for damage. Storms may have caused the infrastructure to crumble or washouts to occur. Keep your eyes open and avoid roads that appear to have suffered harm.
Prepare for traffic jams. Stay fueled and stop more frequently to make sure you don't run low. As you get closer to the affected area, there's a greater chance of fuel stations being closed.
Carry extra food and water. Again, as you get closer to the affected area, you may have a more difficult time finding needed supplies.
Keep a paper map on hand. If communication systems are down or overloaded, you may need a paper map to help you find your way.
Prepare for Other Dangerous Conditions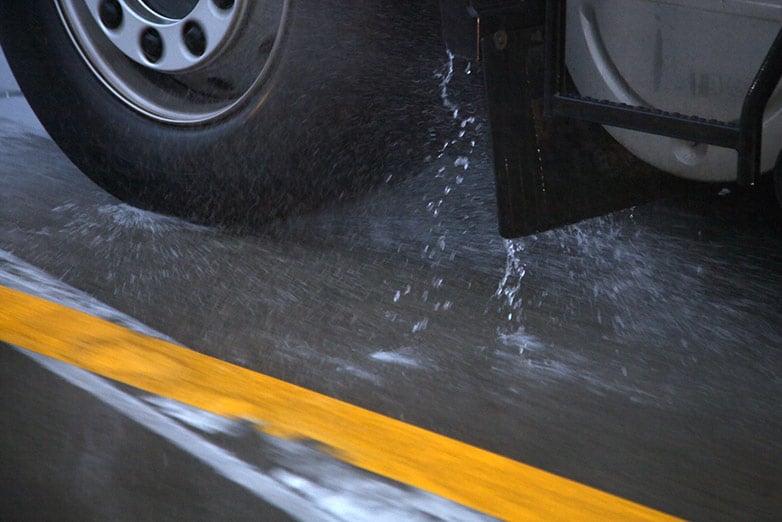 Throughout the fall and winter, other weather conditions can affect drivers, too. Remember to remain prepared for changing weather and road conditions and to watch for weather updates and road closures. Since these can change dramatically in just a matter of hours, set up alerts on your phone to let you know if conditions are occurring that will affect your route.
As with other hazardous conditions, bad weather calls for reduced speeds. In some cases, this means going below the speed limit but when it comes to slick, icy or snow-covered roads, it's better to take your time and reach your destination alive.
Also, as The Smith5Keys® instruct, you're safest when you create a cushion of space around you. Leave plenty of room between you and the vehicle in front of you.
Finally, taking the proper steps to prepare your vehicle for winter weather and making sure you have an emergency kit with snow chains, blankets, road flares and extra layers of clothing is key to ensuring that you're ready for emergencies.
Clean your windshield, mirrors and tail lights when you make stops to ensure that they are giving you the best visibility possible while at the same time making sure others can see you.
When it comes to driving in dangerous weather and unfavorable road conditions, nothing can replace common sense and attentive driving. Take your time, arrive safely and be prepared for conditions to change.