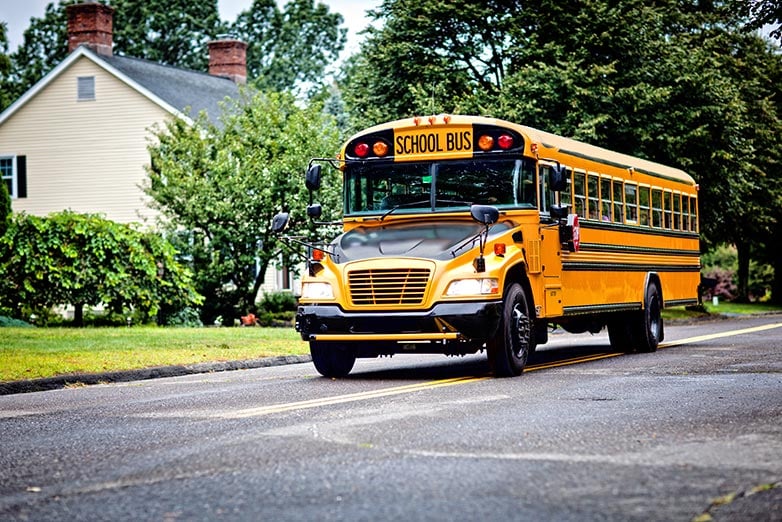 Anyone who drives for a living (or even just as part of their job) has an added element of pressure and responsibility. But when that job involves driving children to and from school, the responsibility is magnified.
According to the National Highway Traffic Safety Administration, school buses are the safest form of transportation for children and account for less than one percent of all traffic fatalities every year. But that doesn't mean that drivers or transportation companies can take safety for granted.
Every mistake a bus driver makes behind the wheel has the potential to have a much greater impact than a mistake made while driving a car. A larger turning radius, slower acceleration, longer braking times and the fact that so many children's lives are on the line gives extra weight to each choice a school bus driver makes. Learning how to maintain safety in a variety of environments is crucial for reducing the risk of crashes.
As technology and vehicles change, so has the way that school bus drivers are learning. Regardless of the state or local minimum requirements, every school bus driver today should take additional driver safety training to help them learn more about how to handle changing environments, both inside and outside of the bus.
While video training can provide good supplemental education and can help reinforce certain driving behavior, nothing replaces solid, behind-the-wheel school bus driver training. Here's a look at three ways training school bus drivers can help reduce risks and save lives.
No. 1: Driver Training Helps Bus Drivers Learn to Manage Distractions
Today's roads have become increasingly busy and drivers have become more distracted. While school bus drivers can't always change their environmental conditions, a good behind-the-wheel training program can give the driver new ways to manage situations and keep everyone on the bus out of harm's way.
One of the most important lessons a school bus driver can learn is how to maintain the proper cushion of space around them. Drivers may underestimate how much space they need to brake or accelerate, or they may not have learned to have enough eye lead time, that allows them to identify and address potential threats on the road.
Advanced driving schools and training programs are excellent ways for drivers to recognize bad driving habits and learn how to correct them before they create safety problems.
No. 2: Driver Training Provides Bus Drivers with the Tools to Manage Passengers
Every bus driver, whether they drive school buses, transit buses or intercity buses, will have times when they have unruly passengers or situations occurring in the bus that can distract their attention from the road. This is especially true in school buses, where children may be disruptive with everything from horseplay to fighting. Such distractions can prove dangerous, so learning what best practices to adopt and how to remain proactive can help prevent problems before they begin.
Learning how to use inside mirrors more effectively can help drivers see when students are standing or moving around, misbehaving or when potential problems are developing. Being able to ensure passengers are in their seats can prevent riders from being injured in the event of a sudden braking incident, and creates a safer environment in the bus overall.
No. 3: Driver Training Teaches Drivers How to Be More Alert
Fatigue is a significant challenge facing many of today's drivers, and according to the Centers for Disease Control, it can be a bigger problem for people who drive large vehicles such as trucks and buses. Learning how to stay alert behind the wheel is a critical part of maintaining safety.
Making a point to scan side and rear-view mirrors every five to eight seconds puts drivers in the habit of looking for dangers outside the bus, which can help them avoid sudden braking. This habit also keeps their eyes moving and keeps them more alert, warding off the fatigue that comes with a fixed stare.
Many programs can provide basic driver training, but when it comes to driving a school bus, there's no substitute for advanced driver safety training. Participating in a behind-the-wheel bus driver program creates a safer environment for the driver, passengers, pedestrians and for other drivers on the road.
Smith System's driver training program is designed specifically for school bus drivers. To learn how to provide your drivers with safer habits, as well as help your district create a safer environment for its students, contact us at 1-800-777-7648.