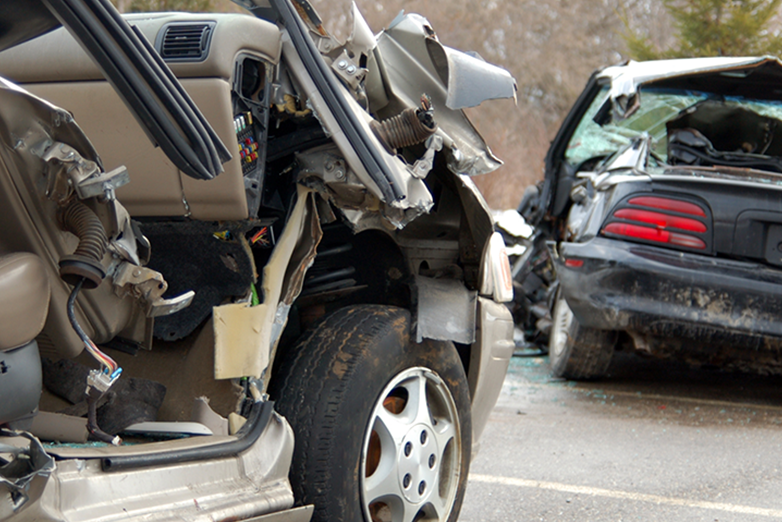 Despite all the state and federal regulations and advances in vehicle safety technology, crashes — and related fatalities — continue to rise in the United States.
Part of this increase can be attributed to lower gas prices and more cars and trucks on the road in general, but the most common causes of fatal crashes continue to be the same ones that have been around for years: speeding, driving under the influence, cell phone use and not wearing a seatbelt.
In many ways, today's vehicles are safer than ever. All new vehicles come standard with seatbelts, rearview mirrors and anti-lock brakes. Safety laws are stricter, air bag technology has improved, and vehicles are built and tested to better withstand a crash.
New vehicle safety technologies like audio and visual alerts and improved steering and automated emergency braking capabilities also help drivers prevent and avoid crashes.
However, all these safety enhancements cannot control driver decisions, habits and behavior. Statistics show that almost 94% of crashes involve driver error — including distracted driving, driving too fast for conditions and making poor decisions on the road.
Traffic Deaths in the U.S.
According to the National Highway Traffic Safety Administration (NHTSA), there were more than 35,000 traffic fatalities in the U.S. in 2015, an increase of 7% from 2014.
Half of those killed were drivers, followed by passengers (18%), pedestrians (15%), motorcyclists (14%) and bicyclists (2%). Passenger vehicles and light trucks accounted for almost 40% of vehicles involved in fatal motor vehicle crashes.
South Carolina had the highest fatality rate. Fatalities increased 19% in the state from 2014 with 977 reported deaths. Massachusetts reported the lowest rate with 306 fatalities, a 14% decrease from 2014. In all, 35 states showed an increase in traffic fatalities between 2014 and 2015, a total of 2,612 additional deaths on the road.
Early estimates from the National Safety Council (NSC) report motor vehicle deaths in 2016 to be over 40,200, a 6% increase over 2015 and the highest number since 2007. The estimated cost of motor vehicle related deaths, injuries and property damage in 2016 was over $432 billion.
The Biggest Causes of Traffic Incidents
According to the NHTSA, the biggest causes of crashes on the road are alcohol, speeding and not wearing a seatbelt.
Alcohol was involved in 29% of the traffic fatalities in 2015. Speeding accounted for 9,557 deaths in 2015 and almost four out of five occurred on non-interstates. The use of seatbelts also plays a major role in road fatalities, as almost half of those killed on the road were not buckled.
Distracted drivers are also an increasing threat when it comes to collisions and fatal crashes. Drivers talking on cell phones, texting, and reading and sending e-mails from behind the wheel is an increasing problem all over the U.S. Distracted driving is also difficult to quantify and often under-reported, according to a recent report by the National Safety Council.
Police must rely on drivers to admit that they were using their phones at the time of the crash, which is not always likely or possible. Sometimes drivers are not truthful about the role their cell phone use may have played in a crash, and other times they are injured or deceased so they cannot be interviewed by police.
Cell phone records are difficult to obtain and, oftentimes, if a more obvious violation can be identified — like speeding or driving under the influence of drugs or alcohol — officers will not pursue the cell phone usage investigation.
Driver Training Can Help Save Lives
Driver safety training can make a major impact on the number of crashes and vehicle-related fatalities. This is especially important for fleets, as fewer incidents on the road leads to fewer deaths, fines and lawsuits — ultimately resulting in big cost savings for the company.
For fleets, the top three causes of crashes are driver errors: backing up, rear-end collisions and jackknifing.
One of the National Safety Council's top recommendations to reduce on-road fatalities is to standardize and accelerate fleets' adoption of new safety technologies such as blind spot monitoring, automatic emergency braking, lane departure warning and adaptive headlights — and to incorporate more defensive driver training.
Better defensive driving techniques — and especially behind-the-wheel training — help drivers more safely navigate through traffic and avoid the most common types of crashes. Drivers learn how to better scan the road to assess a situation and how to be better aware of road conditions and the movements of other drivers. They are also taught to position themselves better in traffic, so they always have an out when conditions unexpectedly change.
Other safety measures recommended by the NSC include extending laws to ban all cell phone use for all drivers, mandating ignition interlocks for convicted drunk drivers, increasing automated enforcement techniques to catch more speeders, adopting a three-tiered licensing system for all new drivers under the age of 21, and passing stricter seat belt and motorcycle helmet laws.
Are your drivers up-to-date on all training and certifications? Are they equipped to avoid crashes? Contact the Smith System team of experts today to see how we can help.