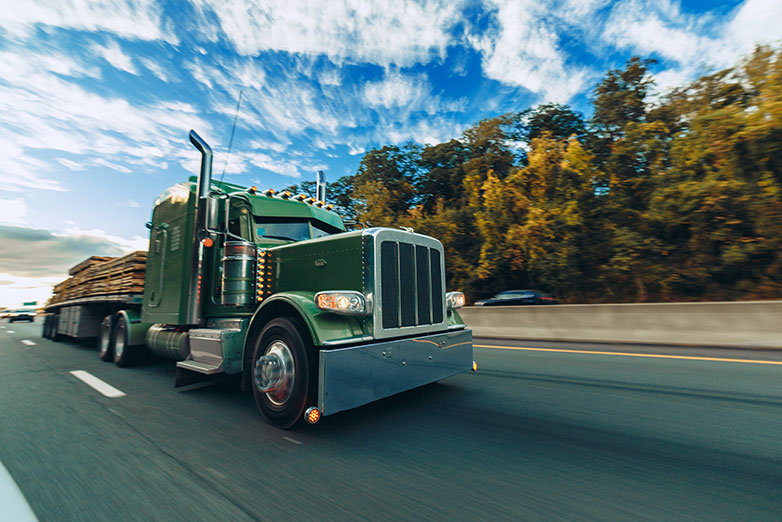 Even as vehicles are being equipped with more sophisticated safety features and traffic fatalities overall are going down, fatalities involving large trucks have increased in recent years.
According to the National Highway Traffic Safety Administration's Fatality Report, even after 5 years of increasing, fatal crashes dropped slightly overall in 2017. However, fatalities involving large trucks increased from 2016 to 2017, with 4,761 people losing their lives in crashes involving trucks. Of those, 28%, or 1,300 of the people killed were truckers, and the other 72% were in passenger vehicles.
The news was even worse for multi-vehicle crashes involving trucks, where the number of fatalities jumped from 267 deaths in 2016 to 343 deaths in 2017, marking a 29-year high for fatal large truck crashes.
Across the board, crashes with trucks weighing more than 10,000 pounds, which includes dual rear-wheel pickup trucks, was the only category of crashes where fatalities increased. According to the report, however, the biggest increase in fatalities came from crashes in vehicles weighing between 10,000 and 14,000 pounds. The number of crashes among those vehicles doubled from 2016 to 2017, while trucks exceeding 26,000 pounds showed a 3.8% increase.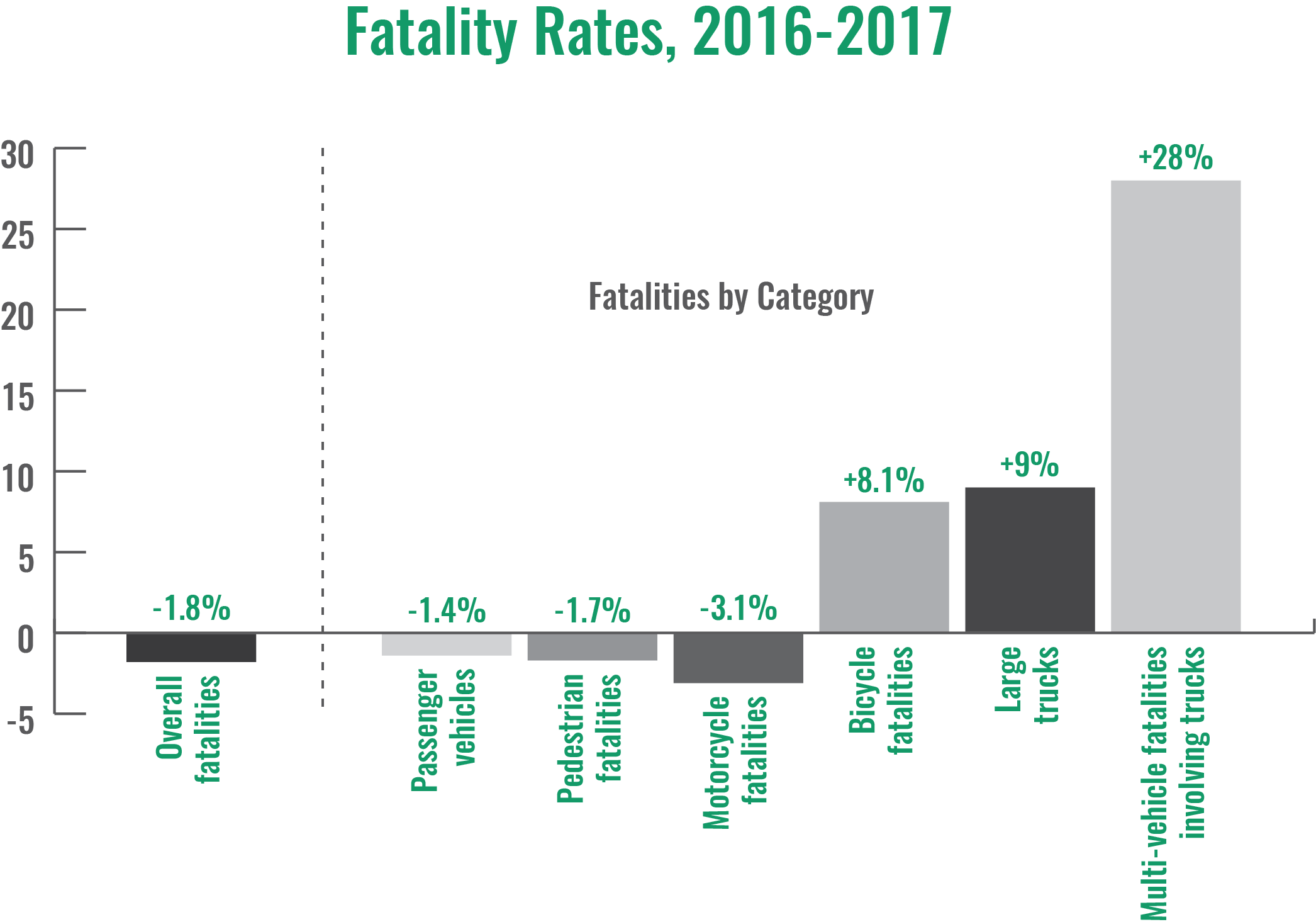 SOURCE: National Highway Traffic Safety Administration

What's Causing More Truck Crashes?
The fact that other segments are showing fewer fatalities while those involving trucks are increasing is due, in part, to increased commercial vehicles on the road, according to Ray Martinez of the Federal Motor Carrier Safety Administration. When the fatality report was released in October 2018, he noted that the uptick in fatal crashes coincided with a booming economy that has accelerated the need for freight transportation.
"As a result of the continued strengthening of the U.S. economy, more vehicles — particularly commercial trucks — are traveling the nation's roadways," he said in a teleconference to discuss the results. "It is somewhat of a corollary that as the economy grows, more vehicle miles will be traveled … and the potential for crashes [and] injuries does increase."
The FMCSA has not identified any single cause for the increase in crashes. Looking at the causes of crashes can give more insight into driver behavior in the future and help identify what needs to be addressed before drivers get behind the wheel, Martinez said.
However, the Insurance Institute for Highway Safety Highway Loss Data Institute (IIHSHLDI) points to several different factors for the rise in trucking-related fatalities. Unlike crashes among non-professional drivers, alcohol very rarely plays a role in truck driving crashes, since drivers are subject to strict government regulations. In fact, just 4% of truck driver fatalities showed the driver had a blood alcohol concentration higher than the legal limit of 0.08%. By comparison, 29% of fatalities in passenger vehicles were linked to drivers with a BAC exceeding that limit.
Instead, the IIHSHLDI says, truck braking capability and truck driver fatigue can greatly contribute to deadly mistakes behind the wheel.
Overall, distracted driving continued to be a factor in the traffic death toll, accounting for 8.5% of the total overall number of fatalities, while deaths caused by speeding declined. Martinez said that as new advanced driver assistance technology features are added to trucks, it can help improve safety for everyone on the road. From automatic braking and lane departure warnings to cameras that provide a clear view behind the truck, more features are being implemented into the design of new trucks. But it still takes attention and skill from the drivers to maintain safety.
"We believe those new technologies add to the safety environment," Martinez said. "But whether or not it's enough to turn the tide is too soon to know."
How to Improve Safety for Truck Drivers
While new technology can be beneficial to assist drivers, it can't take the place of skilled training. There's simply no substitute for knowing how to manage changing conditions on the road.
Today's busy roadways aren't doing drivers any favors when it comes to crashes; with more people on the road, the odds of a crash go up. Factors such as bad weather, construction and road closures all make the roads more difficult to navigate and increase the risk of drivers making mistakes. Along with those busy, congested roads comes an increase in incidents of road rage, which, according to the AAA Foundation for Traffic Safety, is something that affects a growing number of drivers. The Foundation discovered that almost 80% of drivers had participated in some sort of aggressive driving behavior or experienced anger behind the wheel in the past year.
While drivers can't change the environment around them, proper driver training can give them the tools to better manage that environment.
A good driver safety training program will help drivers learn to respond in a safer way and can even help them eliminate some of the risks that surround them. Learning The Smith5Keys® is a proven and effective way to increase the safety and awareness of drivers, regardless of the driving environment.
By learning how to create space and maneuver their vehicle away from conflict and congestion, drivers learn how to avoid such situations as road rage and environments that might leave them without safe distance around their vehicle. Smith's principles also help drivers learn how to look for danger and to steer clear of potential problems, whether that problem is a fixed object or another moving vehicle.
And, finally, learning to plan ahead — or Get the Big Picture® — drivers stay alert to the ever-changing information around them and give themselves the time to react to volatile and complex driving environments.
As today's roadways become busier and more congested, truck drivers, in particular, are at risk for crashes. Investing in thorough behind-the-wheel training is the most effective way for fleet owners and managers to save time, money and lives.